WHY ARE WE BETTER? WHAT MAKES US UNIQUE?
The old ways of fitness are outdated and most new trends are not very customer friendly. Feeling like you've failed other fitness programs? Don't worry, it's not you, it's them! Our fitness center was designed so that our members can be successful. Our focus is on convenience, customer service, and holistic fitness principles.
CAN YOU SPARE 2% OF YOUR DAY?
You can get a complete body workout in just 31 minutes and there are no annoying class times to schedule. A new circuit starts every 3 minutes so no matter what life throws at you-you're never late for class. We will challenge you wherever you are in your fitness journey to ensure you make each minute count!
NO THINKING OR PLANNING REQUIRED
No more wandering the gym trying to figure out what to do or how to work the equipment. No one has time for that! Each time you show up, a friendly and professional team member will guide you through the circuit so we can focus on meeting your goals. We also change the circuits each day to make sure you're getting good variety and of course, having FUN!
SOMETHING FOR EVERYONE

If you're looking for an intimidating gym, this is not the place. Our circuits are for all fitness levels and we support members who want to go at their own pace. Have an injury? Don't worry, we have modifications for every circuit station to make sure each workout is safely completed.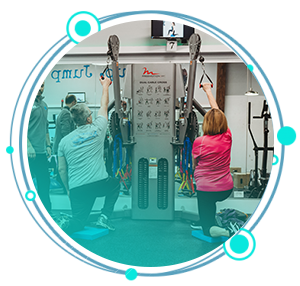 Get Started Today
Welcome To The Neighborhood!
Fill out the form below to get your two-week free pass!
Frequently Asked Questions About Fitness Training at Circuit 31